BENEFICIAL OWNER DISCLOSURE - Assessment of Ghana's Legal Framework
27 November 2017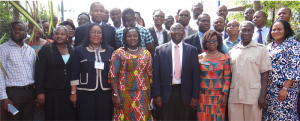 GHANA INTEGRITY INITIATIVE (GII) is the local chapter of Transparency International, a global anti-corruption organization based in Berlin, Germany. GII is non-profit/non-governmental civil empowerment organization focused on the delivery of essential themes necessary for the creation of a National Integrity System. GII was establish in 1999 and have initiated many anti-corruption interventions including Women, Land and Corruption, Tax Justice, Eliminating the incidence of abuse of incumbency and electoral corruption and Accountable Democratic Institution and System Strengthening (ADISS) Since 29th May, 2016 when the Government of Ghana made a number of pledges at the UN Anti Corruption Summit, TI-UK has supported three countries including Ghana to track the implementation of the pledges. One of the twelve pledges that the Government of Ghana made at the summit was passing a Beneficial Ownership Disclosure law. The was indeed passed in July 2016, and Ghana became the first African country to legislate Beneficial Ownership into law.
Authors: Sena Abla Agbekoh, Maggie Murphy and Maíra Martini Reviewers: Ádám Földes, Mary Awelana Addah, Michael Boadi and Maíra Martini
Editor: Ádám Földes

This publication has been generously funded by the UK Department for International Development.