A new global anti-corruption initiative launched
28 April 2016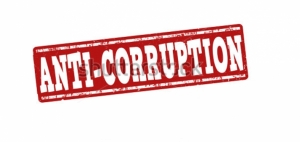 A new global anti-corruption and business driven multi - stakeholder initiative dubbed 'Alliance for Integrity' has been launched in Ghana.
The Alliance for Integrity is expected to promote integrity among companies and their business partners as well as other relevant actors in the country's economy. 
The initiative, which is presently active in Brazil, India and Ghana, has been commissioned by the German Federal Ministry for Economic Cooperation and Development (BMZ) and implemented by the German technical cooperation (GIZ). 
Speaking at the launch in Accra, the Minister of State in charge of Private Sector Development, Mr Abdul-Rashid Pelpuo, underscored the need for the country to support initiatives that would help reduce corruption in Ghana.
"Ghana has gone a long way in the fight against corruption for the past decade. The country has also gratified the United Nation (UN) Convention on anti-corruption and the African Union (AU) Convention on Preventing and Combating Corruption," he noted.
Again, he said the Commission on Human Rights and Administrative Justice (CHRAJ) was established by the Government of Ghana to address corruption in the public and private sectors.
He reiterated the government's commitment to create an enabling business environment for companies in the country to grow and expand.
Corruption and business climate
The Senior Economist, Private Enterprise Federation (PEF), Mr Moses Agyemang, said corruption in any form served as a major deterrent to investments and undermined an equitable business climate.
"Corruption and excessive bureaucracies raise the cost of doing business, resulting in low transparency and investor confidence," he added.  
That, he said, would eventually lead to poor public infrastructure and service delivery, which hampered business growth and competitiveness in the country.
As an example, he said a 2002 study by the Africa Union estimated that corruption cost roughly 25 per cent of the continent's Gross Domestic Product (GDP).
According to the World Bank and the World Economic Forum, corruption increases the cost of doing business up to 10 per cent globally.
He said PEF had over the years been engaged in a number of initiatives and actions in partnership with organisations towards promoting responsible business operations in the country.
Some of these actions include training of SME's on good corporate governance practices, review of the Public Procurement Act 2003, the Ghana Business Code and the United Nations Compact and most recently, the National Anti-Corruption Action Plan (NACAP).
He added that the Federation's role was to ensure that the private sector operated as good corporate citizens of the country.
By: Maclean Kwofi
Source: http://www.graphic.com.gh/business/business-news/63082-a-new-global-anti-corruption-initiative-launched.html#sthash.QXSRJyBr.dpuf