Don't use ISD boss as a "scapegoat"; conduct proper investigation - GII
10 March 2016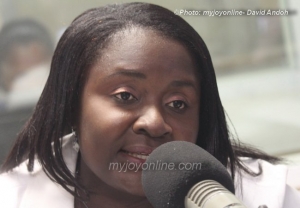 The Executive Director of Ghana Integrity Initiative (GII), Linda Ofori Kwafo, is calling on the government to conduct a proper investigation into the error-ridden Independence Day brochure saga.
She said an investigation in this matter will help the government to clarify the numerous allegations of involvement of major politicians in the production of the error-ridden brochure.
"We want proper investigations and anybody found to have actually done any wrongdoing should be sacked," she said.
On March 10, the acting Director of the Information Services Department (ISD), Francis Kwarteng Arthur, was sacked by government in a statement released by the Communications Minister Thursday.
This comes in the wake of calls by workers of ISD and some civil societies to relieve him of his duties for denting the image and compromising the integrity of the Department.
However, Linda Kwafo said the sacking of Mr. Arthur by the government does not help to resolve the matter. She said the government must not seek to shield the real culprits.
She said that in as much as no investigative body has found the ISD boss to be culpable; his dismissal by the government is a way of using him as a "scapegoat."
She criticised the act of forcing people out of their positions when they fault the law as never enough to compensate for their offences.
"It is not enough because such or similar incidents will occur [and] public sector work will continue," she said.
According to her, the failure of some government officials to follow the proper laid down rules and procedure governing public procurement in the country has provided grounds for such acts.
She called on the Public Services Commission to insist that the public procurement law is adhered to in all public institutions.
Meanwhile, Joy News visit to the Department showed the workers excited and jubilating after news of Mr. Arthur's sacking.
 - http://www.myjoyonline.com/news/2016/March-10th/dont-use-isd-boss-as-a.php