GII starts processes at improving women's access to land
25 September 2015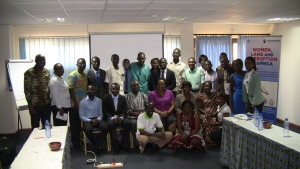 The Ghana Integrity Initiative (GII) has held a capacity building on women's access to land rights for civil society organisations  in a bid to rid off corruption in women's accessibility to land in Africa.
Women who form majority of Africa's population lack access to land for the purposes of agriculture production and other socio-economic activities. All these are partly due to cultural and historical inferences and abuse of women's right to land accessibility.
The training is therefore to provide participants with increased understanding on the issue of women, land and corruption in Ghana whilst enhancing capacity to design and implement projects, which respond to women's concerns about corruption in land administration and land deals.
Mrs Mary Awelana Addah, Programmes Manager of GII said her organisation has over the years worked in different sectors of society all aimed at promoting transparency and reducing corruption.
She said GII therefore decided to undertake the Women Land and Corruption in Africa (WLCA) project to help identify the relationship between women and land ownership and acquisition as well as help identify and correct impediments in the way women acquire land.
The training would therefore build the capacity of participants to have the skills to develop risk assessment tools for their organisation.
Mr Michael Okai, Project Coordinator for Climate Change, GII, said the capacity building training falls under WLCA project which is a Transparency International (TI) coordinated initiative being implemented by TI chapters in  Ghana, Zimbabwe, and Uganda.
He explained that the project also aims at understanding the issue of corruption as it impacts land rights of women in specifically Ghana, Uganda, and Zimbabwe whilst bringing the issue to the top of the agenda of national, regional and international land governance discussions.
Under the WLCA, a research would be conducted on corruption in land administration and land deals in the target countries whilst TI would network and advocate recognition and integration of women's land rights and related anti-corruption activities in development and governance projects.
Mr Okai said the project expects to leverage the discussion and recognition of corruption issues affecting women in their access to, use of, and control over land at national, regional, and international forums.
He said the project would also involve the conduction of a baseline study to help gather information on court cases involving corruption and women, as part of conscious efforts to mainstream women and corruption issues in land transactions and deals.
Participants comprising officials of NGOs, who deals with land right issues, were taken through strategic planning exercises, including context, stakeholder and gender analysis as well as framework for identifying short-term and medium-term measures that could strengthen its capacity to mitigate risks.
Dr Eric Yeboah, a Lecturer at the Department of Land Economy, Kwame Nkrumah University of Science and Technology, Kumasi who is a consultant for the WLCA project said land remains critical asset in the socio-economic development of every country.
He said access to land is a human right issue and the unless women have equal access to land, it would continue to be very serious to the economy of most African countries, many of whom rely on agriculture production as their national backbone.
He said told the participants that as they negotiate in land issues for the vulnerable, especially, women in the communities, they should look out for risk involving anything that would prevent them from seeking justice for the people.
He said there was the need to build partnerships with traditional authorities, family heads, formal institutions and the media, as well as creating a sense of community ownership, as various social advocates work to ensure that the rights of individuals are not abused or oppressed.
He said the workshop was therefore to equip the participants to know and understand the risk which could inhibit their work and know how to plan to mitigate those risks to ensure that every member of the community, both men and women have equal access to land for their survival.
GNA