Ghana Integrity calls for new transition boss
5 June 2015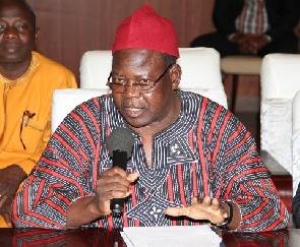 The Ghana Integrity Initiative, GII, has called on President John Mahama to immediately appoint a new Administrator General in replacement of the late Mr. Joseph Donkor Issachar, who passed away on 27th September, 2014.
In a statement issued on June 3, 2015 and signed by Vitus Azeem, the Executive Director, GII said "Since the death of the late Administrator, the position has been left vacant." Therefore, the president needs to appoint a new one "in order for the person to have adequate time to prepare for the transition process after the 2016 elections."
It added that "Irrespective of which ever political party wins power in 2016, there will still be a transition process. An existing government will leave office and a new government may assume office."
A transfer of political power
in Ghana is regulated by a legal blueprint, the Presidential Transfer Act, 2012 (Act 845). The Act creates the position of an Administrator-General who is required to make recommendations to the President in accordance with provisions in the Constitution, for budgetary allocations required in a transition for passing the reins of power from one government to the next one.
In compliance with the law, President Mahama appointed Issachar as the Administrator-General of the Presidential Estates Unit. Unfortunately, Issachar passed away in September 2014, and his position has not yet been filled by anyone.
In the view of GII, "This is unfortunate and a contravention of Act 845" because "It appears to be a routine attitude by this government and previous ones as well, whenever it comes to filling vacancies in accountability institutions. Key accountability positions are often left vacant for unnecessarily long periods and/or held by Acting Heads," the anti-graft body observed.
Source: http://thesunonlinegh.com/2015/06/ghana-integrity-calls-for-new-transition-boss/