Probe rot at EC - GII tells govt
25 July 2017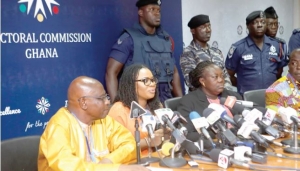 The local chapter of Transparency, Ghana Integrity Initiative (GII) has called on President Nana Addo Dankwa Akufo-Addo to investigate the corruption claims that has hit the Electoral Commission(EC).
GII said the image of the election management body has been battered lately regarding the controversial issues emerging from the commission.
Mrs Osei has been accused by her staff of fraud and financial malfeasance. They have petitioned President Nana Akufo-Addo for her removal as well as sent a similar to the Economic and Organised Crime Office asking for investigations into Mrs Osei's stewardship.
In her response to the EOCO petition, she denied any acts of fraud or financial malfeasance on her part and counter-alleged fraud and corruption against her accusers.
She stated that "Specific mention can be made of the following allegations:
i. The Involvement of the two Deputy Chairpersons of the Commission in procurement irregularities in May 2015 involving $22.3 and $16.4m for the purchase of BVDs
– ii. The Deputy Chairperson signing contracts worth over GHS40m without requisite approval and authorization.
– iii. The Deputy Chairperson collection of GHC6m (Six million Ghana cedis) from political parties for the conduct of party primaries without recourse to the structures of the Electoral Commission
iv. The illegal vote transfers on the Voter management System by the Deputy Chairperson in charge of Operations.
"Furthermore, GII calls on the office of the President to update Ghanaians on the status of the petition received from the "concerned staff' of the Commission on the Chairperson, Mrs. Charlotte Osei.
"GII also wish to commend EOCO for commencing investigations into earlier allegations.
"Finally, GII wants to appeal to politicians to desist from the politicization of these matters and allow due process to be followed in order not to undermine the importance of the Commission in Ghana's democratic process."
Source
http://www.pulse.com.gh/politics/corruption-claims-probe-rot-at-ec-gii-tells-govt-id7046279.html